Justin Wood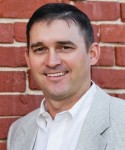 Email
Owner
Direct: 918-843-9700
I was born and raised in Stigler and have returned home after
working in the oil and gas industry in Houston, TX for the past
20 years. My wife, Kim, and I have been married for 17 years.
We wanted to rear our children, Madison and Garrett, in a
small town where family values are important. Bill Wood, my
uncle, has owned and operated Checotah Insurance Agency
for the past 35 years and I have decided to join his agency. We
represent a diversified group of insurance companies which
allows us to find the best price and coverage to fit your needs.
Our goal is to build long lasting relationships not only for our
current customers, but for generations to come. Checotah
Insurance Agency has been serving the area for over 65
years and has a long history of honesty, integrity and
great service. I plan on carrying on those strong traditions
and values. I look forward to renewing old friendships
and making new friends as my family starts a new
chapter in our lives. If I can be of any help, just give me a call at
918-843-9700. I look forward to serving you.